WranglerXPeterMax Collaboration
Park Meadows Mall
Now through early 2018
For as long as I can remember, Wrangler has always been that go-to company for quality jeans that will last, pretty much forever. My dad grew up on a farm and wore his Wranglers. I remember as a kid hanging out with my dad in the garage as we'd work on cars, and he'd be in his Wranglers, still… years later!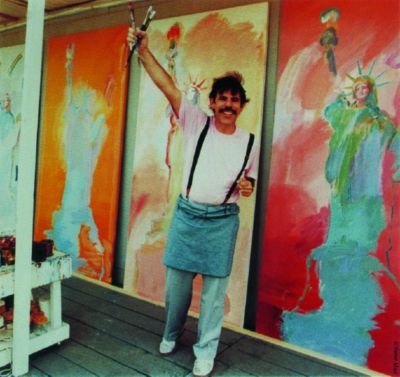 Flash forward to 2017 when the brand that's been forever strong, collaborates with pop artist Peter Max!   For those of you who don't know who Peter Max is, we're pretty sure you've seen his artwork. He is the master of the psychedelic print! To celebrate both the 70's anniversary of Wrangler and the 'Summer of Love's 50th, this collaboration was created! The first collaboration with Max was in the early 70's and this current collaboration still has the same boldly colorful, upbeat feel.
It was so much fun to get to experience and learn more about this collaboration when I stopped by the Park Meadows store. What I absolutely LOVE about all of the styles of this collab is the old school flavor, pop of colors and the way that all of these pieces fit. There's a certain vintage flair paired perfectly with the modern fit.
A big giant THANK YOU to Alonzo who gave me a little history lesson in fashion as I learned about Wrangler and Peter Max!
I headed on into the dressing room to try on this collection. Something about trying all of these clothes on was SOOOOO MUCH FUN!!!
I absolutely fell in LOVE with the way the pockets are accented! These white cords with purple pockets… SWOON!!!!! The denim on denim pieces are beautiful as the original Wrangler feel is very much alive.  Not to mention that they are so well made, I could work on  my car and then ride a horse and they're going to be just fine.
Even though fall is here, I'm still going to rock the heck out of the shorts! Yesterday, I paired them with high over the knee socks and my red cowboy boots to keep with the Wrangler feel. And, because Peter Max's awesome artwork is on the inside of the jacket, I flipped it inside out throughout the day. Both sides of this jacket are super cool! I'm going to bring" inside out day" back!!
It was so much fun to get to learn more about Wrangler and this collaboration! My own personal style is very much in line with this too… classic, throwback, colorful and fun!! YES PLEASE!!!
Swing on by the Park Meadow store! This collaboration will be featured in store until early 2018. And, keep in mind, these pieces are limited edition!! Ohhhhh yeaaahhhhhh!!

Created with Admarket's flickrSLiDR.